UNLEASH THE GAME-CHANGING ADVANTAGE WITH XPLOR PRO COMPONENTS
At WP Suspension, we always aim to elevate the riding game and help riders to experience a game-changing advantage on their off-road adventures. The XPLOR PRO COMPONENTS offer unprecedented levels of performance, reliability, and excitement, taking riders to a whole new level of riding.
For this reason, we are pleased to present the XPLOR PRO 7548 Fork and XPLOR PRO 8950 Shock for the new Husqvarna 2024 ENDURO Range.
The XPLOR PRO COMPONENTS for Enduro are engineered to provide unbeatable performance and reliability on the most demanding trails, and will revolutionize the riding experience with the game-changing advantage riders have been seeking.
When it comes to off-road riding, reliability is paramount. The XPLOR PRO 7548 Fork and XPLOR PRO 8950 Shock are built to withstand the harshest conditions and toughest trails. With their robust construction and high-quality materials, these components offer exceptional durability and longevity.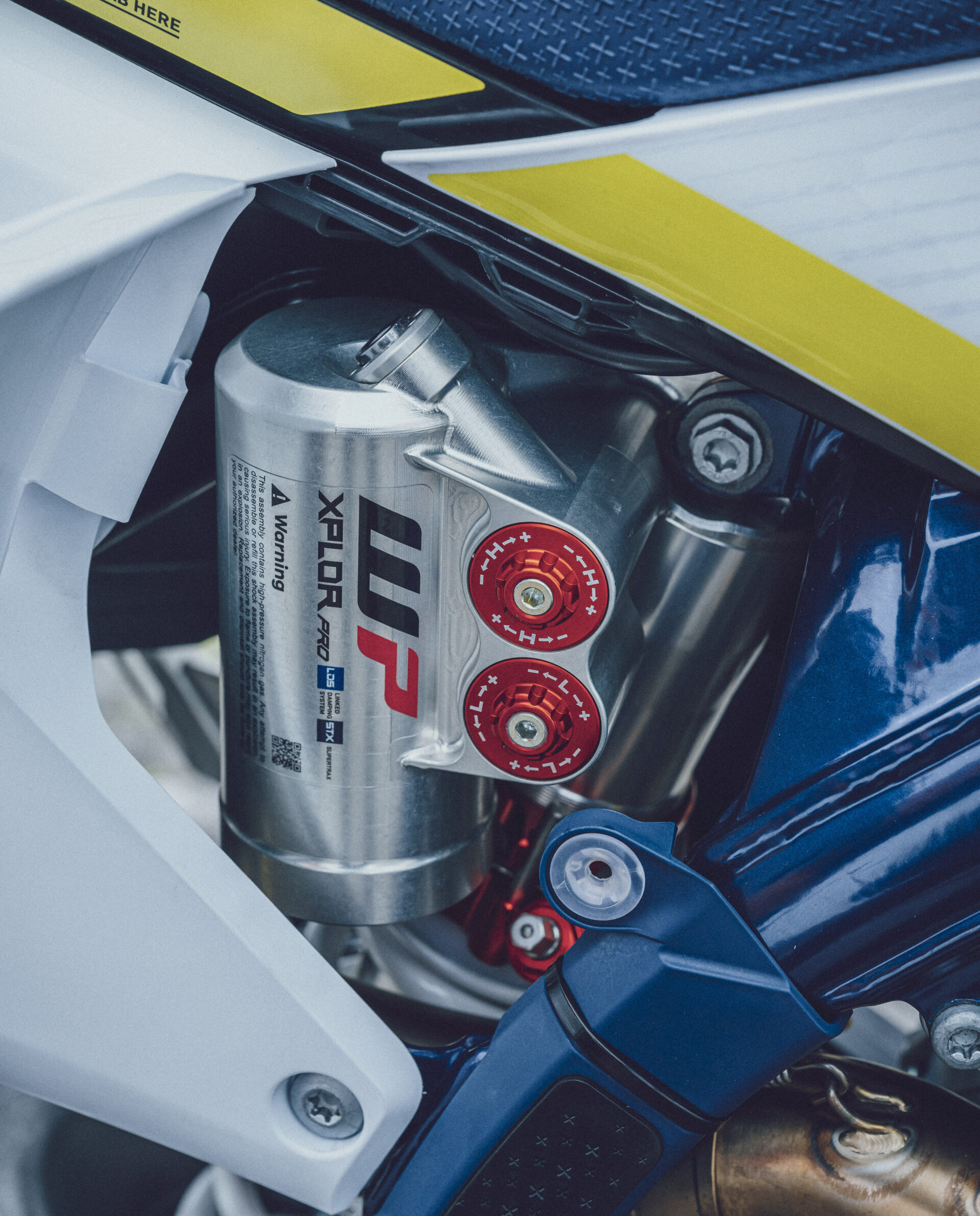 The new and redesigned XPLOR PRO 8950 Shock offers exceptional damping characteristics that can be adjusted to suit the rider's preferences and the specific terrain. By fine-tuning the suspension settings, the rider can optimize the rear wheel's grip and responsiveness, enhancing control during acceleration. In addition to traction and control, the design of the XPLOR PRO 8950 Shock contributes to overall handling and stability. By absorbing bumps and vibrations, the shock reduces the impact on the rider, minimizing the chances of losing control or being unsettled during acceleration. This allows the rider to maintain a more consistent and controlled riding.
Main characteristics and features
• New flow-optimized compression adjusters, big high-speed compression adjuster and small low-speed compression adjuster.
• New flow-optimized main piston for better damping response.
• New SKF Seal bushings
• All adjusters reachable from one side
• Hand-crafted with the highest care and premium materials for the best durability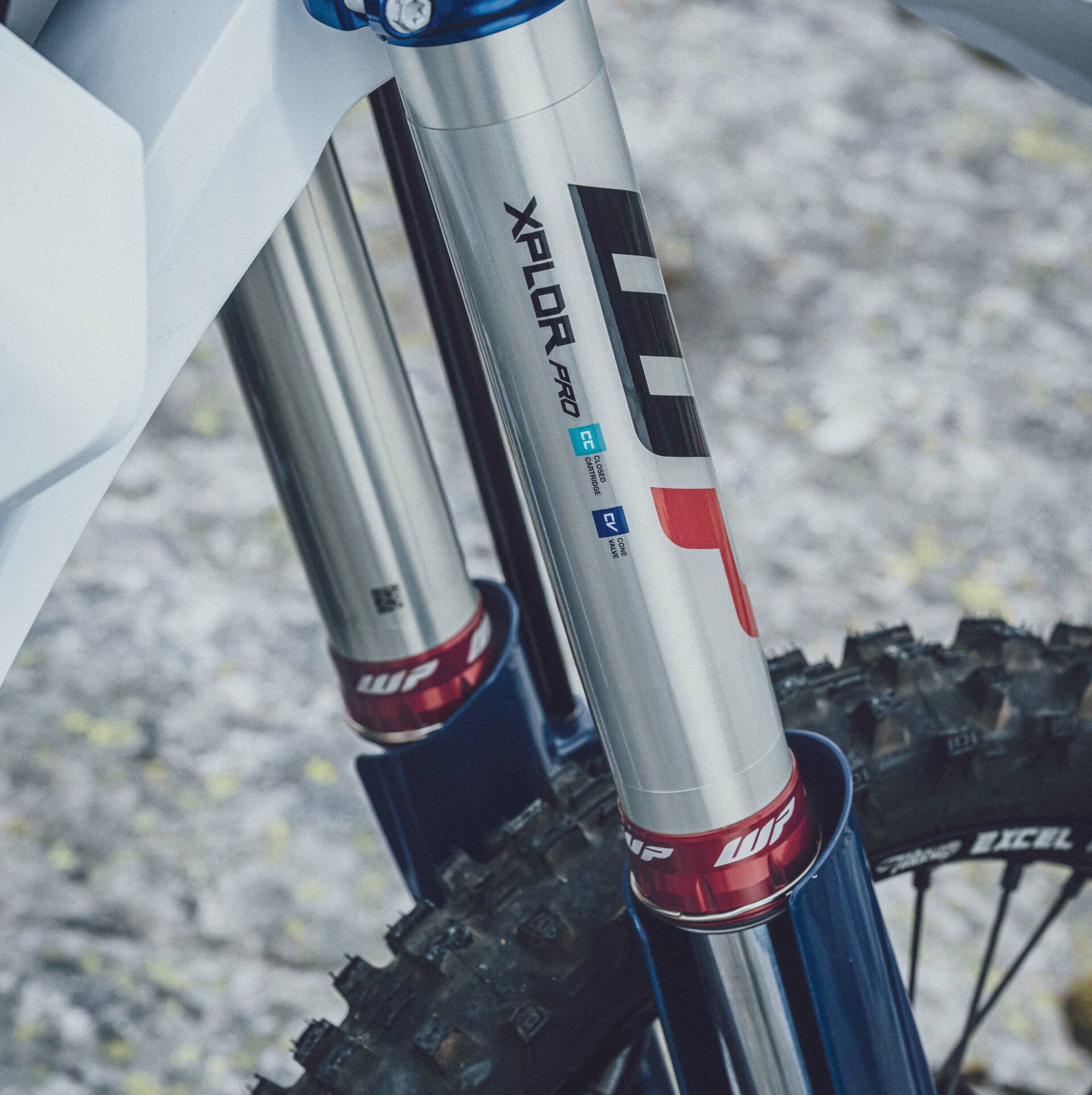 On the other hand, the XPLOR PRO 7548 Fork offers ambitious riders tailor-made maximum performance and uncompromising off-road, the WP CONE VALVE Technology, The XPLOR PRO 7548 Fork combines comfort with improved breakthrough reserves and enables an exceptionally direct response on any terrain.
Main characteristics and features
• New hydro-stop for better end progression
• Basevalve tap with low-speed circuit, for better damping control
• Progressive damping behaviour thanks to WP CONE VALVE Technology
• High damping reserves for strong impacts and jumps (no abrupt hardening)
• Comfortable handling the motorcycle in all situations
• No damping loss thanks to the WP CONE VALVE Technology
• Fully adjustable WP PRO COMPONENTS suspension system
Both PRO COMPONENTS will fit the following motorcycles:
Husqvarna: All Enduro Models from 2024
For more detailed information visit your nearest WP AUTHORIZED CENTER
or go to – WP Suspension (wp-suspension.com)