WP XACT PRO ANTONIO CAIROLI LIMITED EDITION
222 LIMITED AND UNIQUE HANDCRAFTED PIECES
The partnership between WP Suspension and the motocross legend Antonio Cairoli is legendary.
With an incredible nine world titles and 178 victories to his name, Antonio Cairoli is a true legend of the sport. The XACT PRO COMPONENTS suspension set is the epitome of cutting-edge technology, available in a limited edition of just 222 units.
The set comprises a travel case to carry this special edition of the XACT PRO 8950 Shock absorber and the XACT PRO 7548 Fork, featuring laser-cut details, including Antonio Cairoli's signature, while the sleek black finish makes it one of the most high-end suspension kits on the market.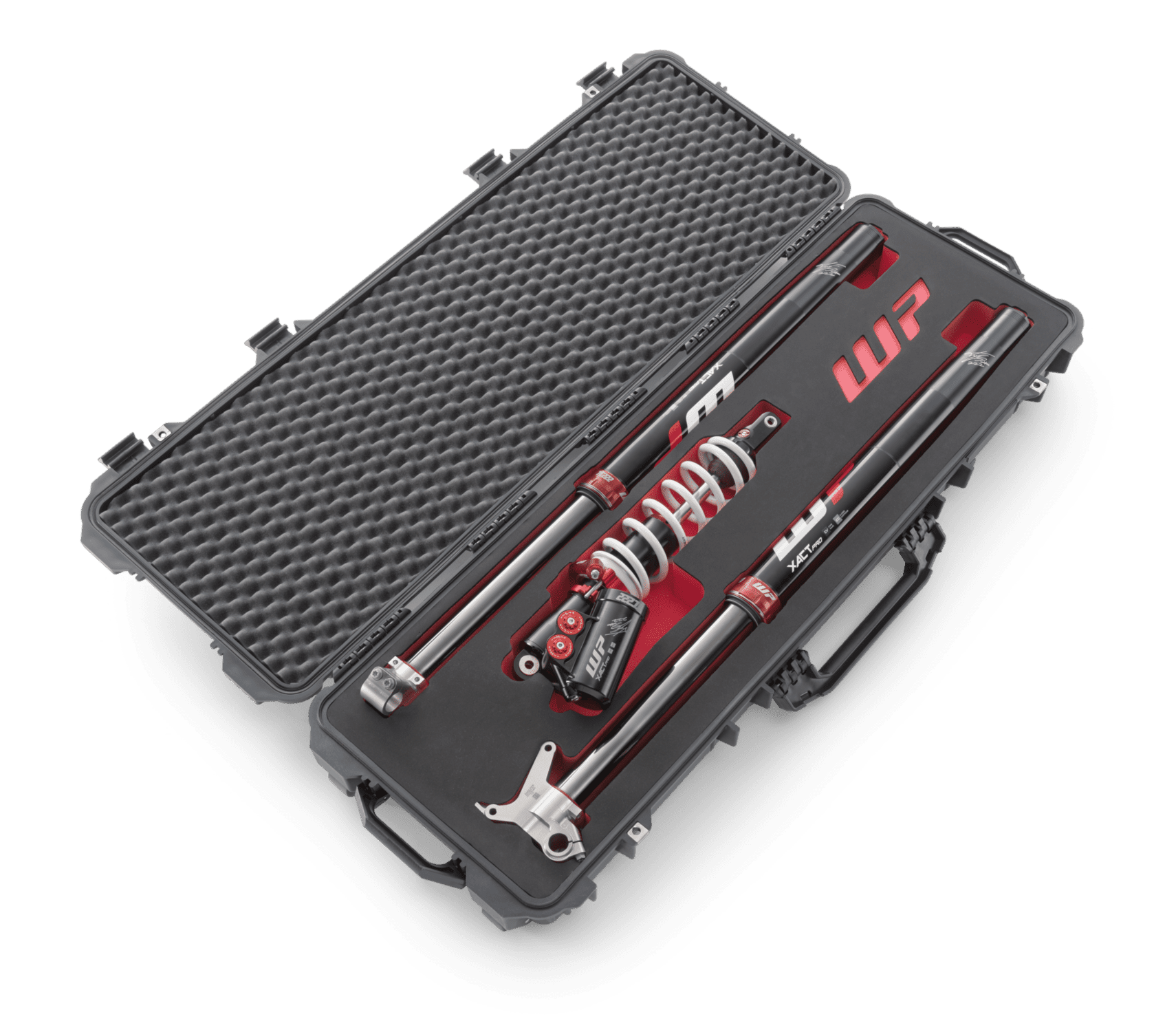 XACT PRO 8950 SHOCK TC222 Limited Edition TC222
TECHNICAL FEATURES
– Special and limited design with TC222 Signature and laser-made details and all-black features.
– More safety and more comfort when riding
– Less physical strain on the rider
– Improved and smoother ride
– More traction and grip of the rear wheel, so you accelerate better
– Fully adjustable compression and rebound damping allows individual optimization for each rider and their style of riding
XACT PRO 7548 FORK Limited Edition TC222
TECHNICAL FEATURES
– Special and limited design with TC222 Signature and laser-made details and all-black features.
– Improved feedback from the track in every riding situation
– Pressurized system reduces cavitation risk – no damping loss
– Extreme longevity due to the use of only high-quality materials
– All settings can be adjusted externally and flexibly
– Specially handcrafted with the highest care

WP TRAVEL CASE
FEATURES
– High-quality hard case with protective foam
– Includes wheels and handles for easy transport
– Watertight, crushproof, and dustproof
This Limited Edition will fit on the following motorbikes:
KTM
250 SX-F Factory Edition 22-23
450 SX-F Factory Edition 22-23
All SX-F/XC-F Fullsize 23-24 (4-stroke)
All SX/XC Fullsize 23-24 (2-stroke)
Husqvarna
FC 250 Rockstar Edition 22-23
FC 450 Rockstar Edition 22-23
All FX Fullsize 23-24 (4-stroke)
All TX Fullsize 23-24 (2-stroke)
GASGAS
MC 250F/450F Factory Edition 23
For more detailed information visit your nearest WP AUTHORIZED CENTER