// WP SUSPENSION AT MOTOGP™
Performance, Innovation and Technology leading to POWER & CONTROL. Our philosophy is clear and concise, our strive for victories in motorsports, and our ambition to develop only premium components is reflected in each competition. For many years, WP Suspension has been present and successful in almost all kinds of Off-Road competitions, supporting riders of every skill level to reach their personal best.
As in the Off-Road world, our passion for the road segment has also been part of WP Suspension for many years. The tireless development efforts of our engineers to create superior suspension components led to an impressive series of successes in the road segment, which we are proud to offer for road and track riders whether in competition with leading racers all over the world or in competition with their ambition, constantly pushing their limits on the road.
In 2017 WP Suspension was crowned by entering the premier class in street motorsports with the participation in the MotoGP™ together with the KTM Red Bull Factory Racing Team.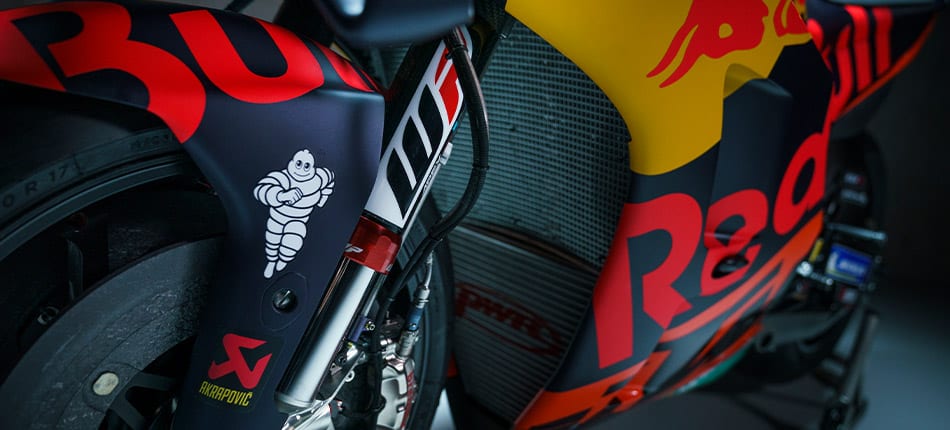 Founded back in 2015, with the legendary and former professional motocross racer and current KTM Motorsports Director Pit Beirer in command, the Red Bull KTM Factory Team has made unbelievable progress, achieving excellent results, thanks to the help of great riders, such as Mika Kalio and Dani Pedrosa, the RC16 as a more competitive motorcycle and great engineering ingenuity. This has been reflected in the last races, where Miguel Oliveira has been present on the podium several times.
WP Suspension is proud to contribute to these successes with class-leading suspension technology and innovations that are also used for our APEX PRO COMPONENTS after-market product portfolio.
As in MotoGP, WP Suspension is also present and successful in several other road racing segments as Moto3 with the Spanish Pedro Acosta, who at only 17 years old, has had an incredible performance this season and leads the world classification.
From WP Suspension, we are excited to continue being part of this incredible racing world, full of talent, ambition and success.