// Erzberg Rodeo, is it the most challenging enduro race in the world?
Those who belong to the off-road world should have heard of one of the most famous, most demanding and longest enduro events in the world, where seas of rocks are common, steep slopes, roots, fallen trees, mud and an infinite amount of obstacles that make it one of the most challenging events in the world.
Also known as the Red Bull Erzbergrodeo, or the World Xtreme Enduro Supreme. This event became famous because many riders cannot make it to the finish line.
Riders describe this event as challenging and sometimes frustrating, and having an optimal performance, both psychological and physical, is crucial.
Let's go back to the roots first.
The Erzberg Rodeo is an Austrian motorcycle enduro event started in 1995 and held annually in May or June; it is the largest of its kind in Europe.
The South African rider Alfie Cox was the first rider to win the event; back in 1995, Alfie was at the helm of his KTM, and he can be proud of having proclaimed the first triumph of the race.
All the big names in the motorcycle world challenged the iron giant. Riders such as the multiple times Dakar winner Cyril Despress, the polish rider Tadeusz Błażusiak who won the races five consecutive times, and Graham Jarvis, who also got on the top of the podium three times, being the last rider to win the Erzberg rodeo in 2019.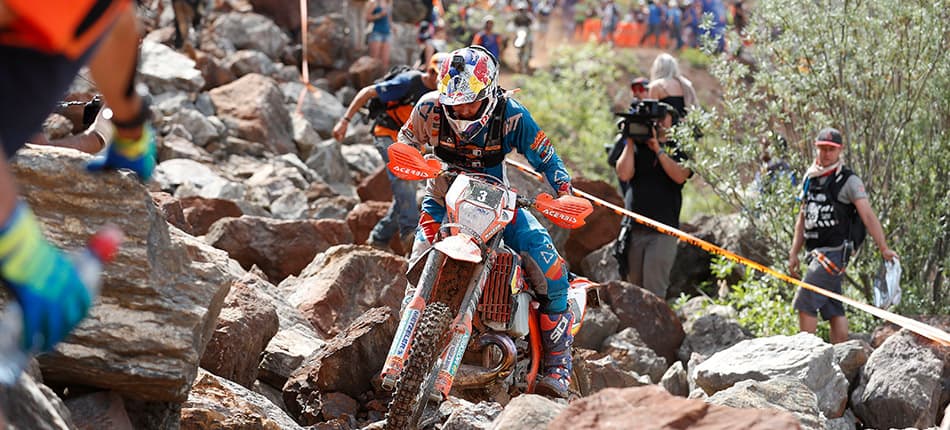 Graham Jarvis, Factory Team Rider for Husqvarna Motorcycles, has one of the best track records in the off-road world, claiming to have won the Erzberg rodeo and many of the most challenging enduro events in the world.
Graham Jarvis equips on his Husqvarna TE300 the XPLOR PRO COMPONENTS, the WP XPLOR PRO 7548 Fork with CONE VALVE Technology, and the XPLOR PRO 8950 Shock Absorber, including the LINKED DAMPING Technology that optimizes the progression of shock for even more comfort and higher bottoming resistance.
Since the outbreak of COVID-19 in 2020, the Red Bull Erzbergrodeo has been cancelled and postponed until 2022. At WP Suspensions, we are excited to follow the progress of our riders and see them take victory in this challenging and exciting enduro event.